A very happy and proud Florda Childs in front of the home she received from her daughter Shenteria and her fiancé Edward.
OUR MISSION- Empowering black women
Our mission is to empower black women by giving women in lower income areas a home of their own (if they are over 65), or in cases where a younger woman has enough income, to help them raise their credit scores to be able to buy a home. Black women are the hardest hit when it comes to job pay, generational wealth and even positions in their communities. Yet, we believe they are not only very deserving, but are the biggest stabilizing force in their communities. We were all born from a woman (our mother), and they are often the main person who raises us too (especially in our black communities). It's only right that we guarantee all of our women who have bore and raised us the stability of a home of their own. In a way, this can also be looked at a little like an inheritance or type of generational wealth which the black community has had very little of. We believe women are the basis of a sound society and by empowering them we can greatly improve our society. A woman with a home gains more self-esteem, independence and the ability to positively affect her partner, children and grandchildren.
With the stability of owning her own home a woman has a permanent place to live (with no rent or mortgage payments). This gives her a home base with stability and also the status of being a home owner. It can also actually allow her to be fully financially independent even without a job if she is willing to rent out a couple of the bedrooms (at say $300 to $400 each). Admittedly, this is a meager income, but with conservative habits it is sufficient. And she can can pay her property taxes, insurances and food (along with internet and a mobile phone) and still have a little money left over (possibly even save $100 or more a month).
We've seen first hand what a great gift a home can be. Our first woman to receive the gift of a home was my mother. Like many black women, she had been at home raising us most of her life and hardly had any social security. So at 66 she was still living with her younger sister and watching kids even though she was at retirement age and well deserving of it. My fiance, Edward, at 65, had recently received some generational wealth from his parents and knew how helpful that was to him. While was feeling very grateful we talked and came up with the idea to pay half each to buy my mom a home. So we surprised her with a home on Juneteenth 2020 (you can see the video surprise below).
This has been a great gift for my mother but it has also been a great gift for Edward and I. So we came up with the idea/dream of giving the gift of a home to a million black women and created empowermillionblackwomen.org (embw.org). It is our hope that anyone making over $75,000 a year, and in particular anyone with over a million in net assets, will consider gifting a home to a black woman in need. We've started this project in one of the lower income areas of a city with lower priced houses (this is in Belleville, close to where I was raised in East St. Louis). An older 3 + bedroom home can be bought for under $40,000. So as a millionaire this would be less than 4% of your net worth (or less than 2% if you're worth $2 million and 1% at $4 million etc). So it wouldn't really change your life style, but it would completely change a black woman's life. You would really be making a difference in the world. We promise you'll find it to be one of the most gratifying things you've ever done. And it's the gift that keeps on giving. There's hardly a day that goes by that we don't rejoice that my mom now has her own home.
We also encourage the recipient's of the home to send a short report of how they're doing at least twice a year. This is their way of saying thanks and it is a reminder of what a difference you have made in their lives.
To help each home recipient to maximize the home they have received, we have a system/set of rules we require adherance to. Since the home is for security and even additional income from renting rooms, it will not be allowed to sell the home. This home will remain with the woman throughout her life and then will go back to the non-profit EMBW organization (and soon after it will be given to the immediate family or in some cases to another recipient).
Also, to help the home recipient maximize their home we require that they not allow friends, or even other family members to live in the rooms for free. We strongly recommend  they charge between $300 to $400 a month rent for each room plus 1/3 of the total utility expenses including cable and tv. The reason for this is we are trying to empower women, but unfortunately people often try to take advantage and live for free. This home is to be not only a safe and secure base for the recipient but also a source of income (kind of like her own business). So it's important for her to utilize it in a way that she receives enough money to live on. Typically the home will be at least 3 bedrooms. So 2 of them can be rented out (which would bring in $600 to $800 a month of income), plus any social security income they may be receiving, which is zero or a very small amount in the case of the women we will be helping. This might be tight financially but with good money management a person can live on this (and since they don't have rent or mortgage payments).
As soon as we are formed into a 501 C3 we will be formally taking applications, but we encourage deserving black women over 65 to contact us, and we encourage wealthy benefactors to inquire as well. ​
My mom's home in Belleville, Illinois (where you can donate a home like this for under $40,000)
contact us
How to help
The average home in America now costs between $300,000 to $400,000. So if a person wanted to donate a home to a deserving person it would be quite costly. Of course, there are many areas in the US where the average home price is less. We are starting in an area where there are many homes that can actually be bought for about 1/10th of that amount ($40,000 or less). The home we bought Shenteria's mother is only valued at a little over $30,000. So at this time we are encouraging wealthy benefactors to buy and gift homes in the $30,000 to $40,000 range for these deserving black women who are living in this general area (or it could possibly be in other areas with similar home prices).
The gift that keeps giving
Happiness studies show that although a person's happiness level will increase somewhat up to about a $75,000 a year income, there is no measurable increase in happiness beyond that (see Princeton, 450,000 person happiness study).  However, there is a great increase in happiness from giving. So we hope that beyond working hard to increase your wealth that you'll be wise (and caring) by using some of your wealth to truly change someone's life and bring yourself a great deal of happiness and satisfaction as well. After all, what really improves character and what really matters is the positive difference we make in the world and the lives of others.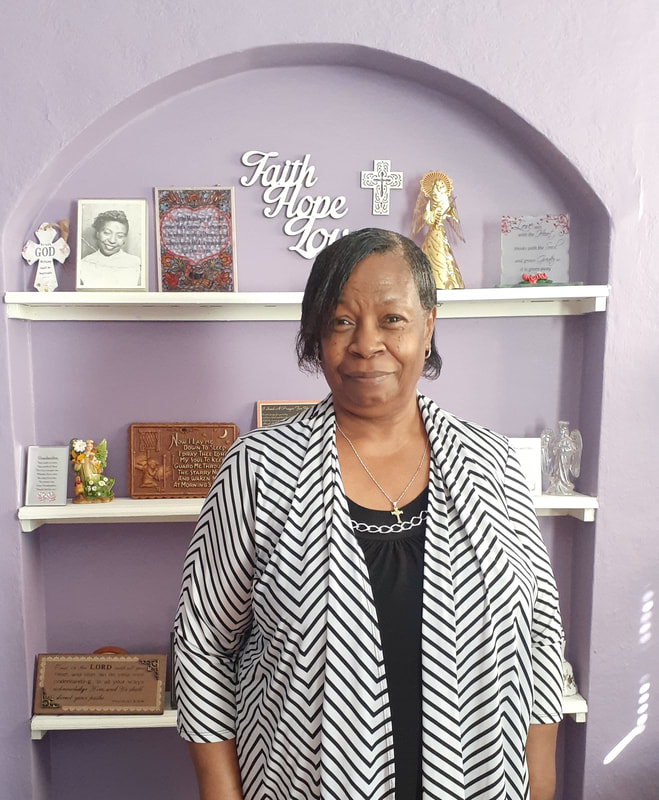 ​Hi, I'm Florda Childs (picture on the left), I want to tell about my experience of receiving the gift of a home from my daughter Shenteria and her fiancee Edward in July of 2020. Here is how it positively changed my life.
My sister and I were staying at a motel with my sister's 2 children. The home my sister was renting caught fire and we were stuck staying in a motel for a couple of months. It was very cramped in the 1 room with the 4 of us (and it had been difficult in the places we lived in before where I had to sleep in the living room). I didn't feel like I had much control of my life. I only received a very small monthly social security check of about $347 a month. We would share in buying food and I would also pay $136 for my share of the rent. I also had to watch my sister's children daily. It seemed like I would be in that position for the rest of my life because I didn't have enough money to save and change my situation.
After I received the home, my life changed in many positive ways. I am now the owner of my own home which also gave me the pride and status of ownership. This changed my position and helped increase my self-esteem too. Now, my sister pays me rent for living in my home with her 2 children and she also pays me to watch them while she's at work. I also save $75 a month on storage that I had to pay before. My financial situation is so much better now! If I needed to I could also get additional income from a son of mine who is now living in one of the rooms. Anyway, it has given me considerable extra income on top of the $347 a month social security. And it has given me a lot of security too. I have control of my life now.
Receiving a home has truly changed my life and I really appreciate the gift. I hope many other hard working black women can also receive the great gift of a home paid for by caring people giving this as a gift to them. There is a real need for this, especially in the black community where there isn't much generational wealth, and the mother often is the main one taking care of the kids. So many mothers don't get much social security, and when they turn 65 they aren't able to enjoy their retirement years. I am looking forward to continuing to enjoy my retirement years even more and on my own terms